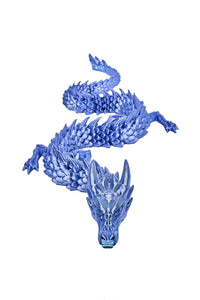 Daring Dragons
Introducing the Daring Dragon, the ultimate eco-friendly 3D printed tactile toy and collectable. Made using sustainable materials, this dragon is not only good for the environment but also provides a unique and exciting sensory experience. Its intricate design and unique finish make it a perfect addition to any toy collection. Take a step into the world of dragons with the Daring Dragon, the ultimate fun and cool collectable. Order yours today! 
Very Cool~
Such a beautiful dragon. The colors, the way it moves, the environmental story behind the production ... that all makes it a really good product. They are cool to collect as well. Who doesn't want a shiny curvy dragon?
Sold like hotcakes!
Absolutely beautiful! We have only 4 left!
Dragon
It's beautifully detailed!
Wonderful gold dragon
We gave our 10 year old grandson the gold dragon for his birthday and he loved it. It is very well constructed and begs to be touched and played with.