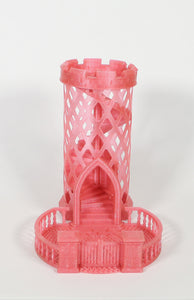 Dice Towers
Suitable for all of your tabletop gaming needs, Gamer Gadgetry's Dice Tower gives you a functional and stylish addition to your gaming setup. Controlled and fun dice rolls make for a more interactive and organized rolling experience. Never worry about chasing after your dice underneath the table again, the dice's mini courtyard provides an optimal enclosed area to control the dice. While the rolling stairway ensures a seamlessly randomized roll. We would love to say that each tower increases your chance of a Nat 20.. But for legal purposes we cannot assure that. The perfect option to add to your next campaign setup or surprise the tabletop game lover in your life! 
3-D Printed and shipped from Canada.

Printed using PLA which is a renewable, environmentally friendly, and non-toxic thermoplastic and polymer.

Available in a range of colors.